Wild Fauna Support Center (CAFS)
"Aves da Mata Atlântica"
Wild Fauna Support Center (CAFS)
"Aves da Mata Atlântica"
Ligia Oliva, head of the Veterinary Division of Parque das Aves, and Roberta Manacero, CAFS' coordinator, performing an endoscopic procedure in a rescued animal.
A treatment and rehabilitation center for rescued fauna, specialising in birds of the Atlantic Rainforest, run in partnership with the government of the State of Paraná.
The Atlantic Rainforest is 91,5% deforested in its primary state, and the Brazilian State of Paraná is the federal state with the largest area and proportion of Atlantic Rainforest remaining in the country. A principal threat to many endangered species of bird is animal trafficking, and thousands of birds are rescued by the authorities every year. In partnership with the State government, Claravis set up this Center in order to receive birds confiscated from trafficking or injured by various means and in need of rehabilitation. This Center works to rehabilitate and, based on individual evaluation and following sound principles, release birds responsibly whenever possible. In other cases, when this is not possible, birds will be destined to high-quality institutions and threatened species can become part of structured ex-situ conservation programs. The two principal strategic aims of CAFS are to ensure welfare of individual birds and, when necessary, other fauna, and to ensure that birds of threatened species in need of rehabilitation are given the best possible chance to contribute to the conservation of their kind.
CAFS Aves da Mata Atlântica is located on a 14-hectare site in Foz do Iguaçu, Brazil dedicated to rescue and conservation breeding. The property is owned by Parque das Aves, separate from the Parque das Aves visitation site. Parque das Aves donates use of the space as well as staff resources to CAFS, and the Center is audited and run in partnership with IAT (Instituto Água e Terra), the State government's institute for nature conservation.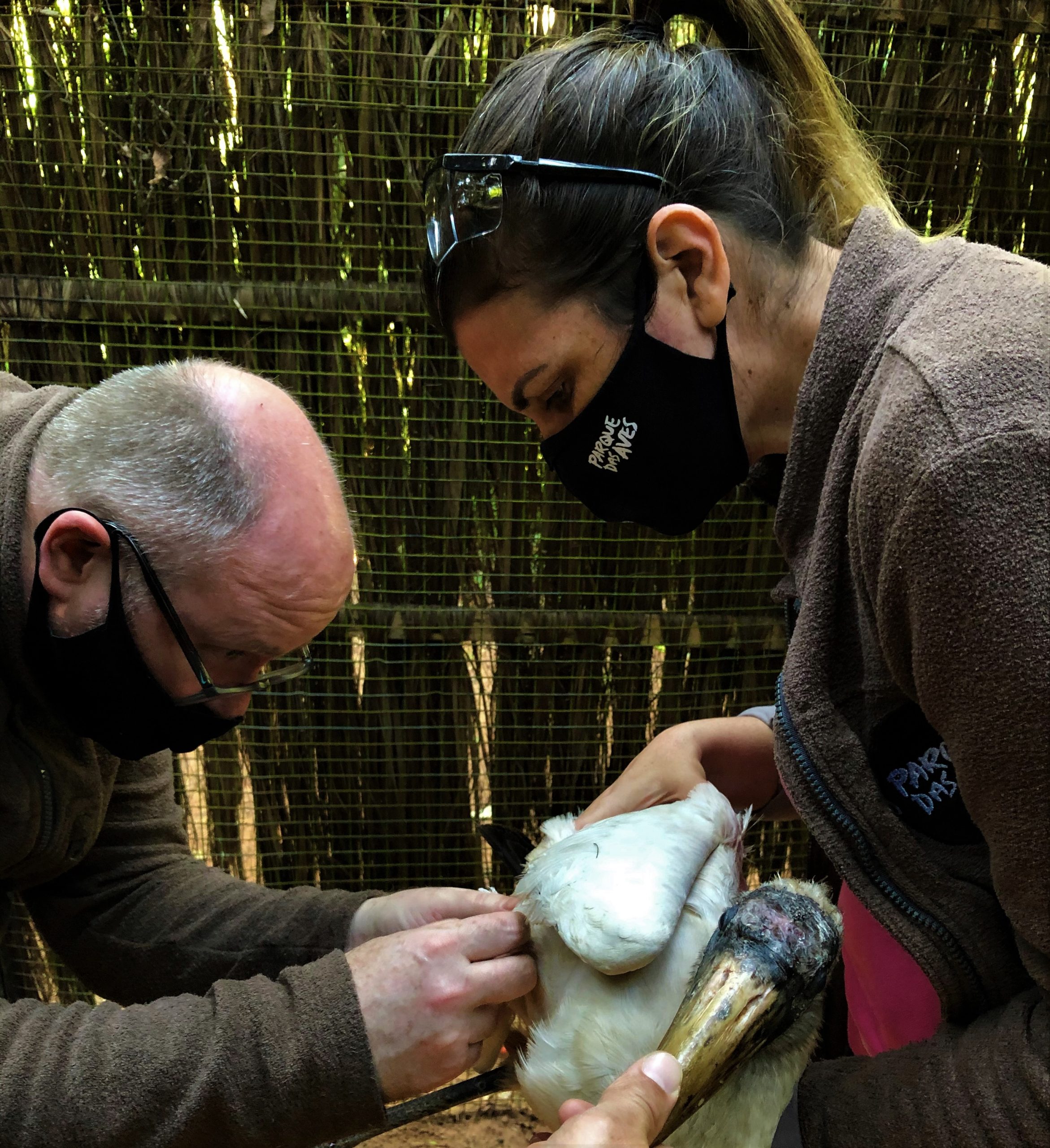 Paloma Bosso, technical director of Parque das Aves, and Mathias Dislich, head of the Research Division, examining a rescued Wood Stork (Mycteria americana) after a delicate surgery.