Black-fronted Piping-Guan (EN)
Instituto Claravis works for the conservation of Brazilian biodiversity. Through its field conservation center, the Institute runs and collaborates on field conservation projects for threatened species including some of the most endangered birds on the planet. As a regional resource center for the IUCN's Species Survival Commission and IUCN SSC Conservation Planning Specialist Group, Instituto Claravis acts as a national hub to boost regional species conservation efforts by bringing global standards and tools, networking and building capacity to assess and plan to save species.
We believe in a collaborative approach and work with governments, non-profits, universities, zoos, conservation breeding centers and others to deliver conservation results.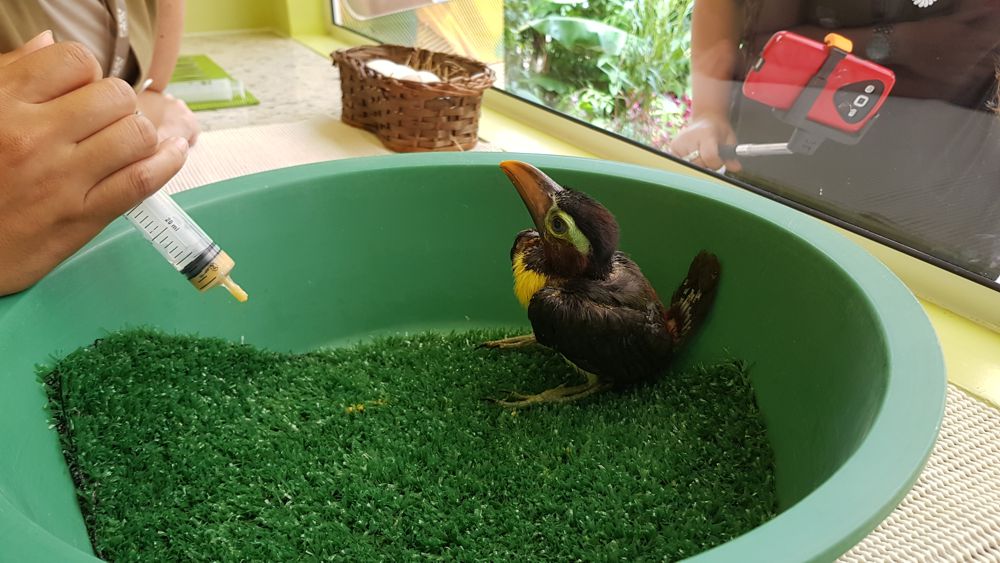 Chestnut-eared Aracari rescue chick being taken care at the Wild Fauna Support Center (CAFS).
Instituto Claravis was established in 2020 by the team of Parque das Aves, as part of Parque das Aves' commitment to the birds of the Atlantic Rainforest, and to the people and projects acting to help them. Parque das Aves is a bird park in Foz do Iguaçu, Paraná, Brazil, founded in 1994 by Anna and Dennis Croukamp. In 2017, Parque das Aves decided to focus its resources on conservation of Atlantic Rainforest birds. As part of achieving that mission, Instituto Claravis was born. Parque das Aves is committed to funding the operations, including most staff salaries, of Instituto Claravis.
Our Team

Our team includes biologists, veterinarians and others with decades of experience in the conservation of species and ecosystems.

Claravis and the Extinction Crisis of the Birds of the Atlantic Rainforest
There was once a small grey dove that lived in the rainforests of Iguaçu. It was a shy, quiet species, appearing from time to time when the great taquara bamboos produced their rare flowers and seeds, and then melting back into the forest. It had shimmering iridescent spots on its wings, which gave it its name: the Purple-winged Ground-dove, Claravis geoffroyi.
Now, nobody has seen one for sure in decades. The species is feared to be extinct, another victim of the devastation of the Atlantic Rainforests of Brazil, Paraguay and Argentina. By the time we learned of the possible extinction of this species, it may already have been too late. Dove breeders had established a captive population during the 1970s and 1980s, but with changes in legislation, these efforts were dismantled by the 1990s. Few recognised that this was a species already on the brink of extinction, and, tied up in well-intentioned but suffocating bureaucracy, the birds dwindled away to nothing.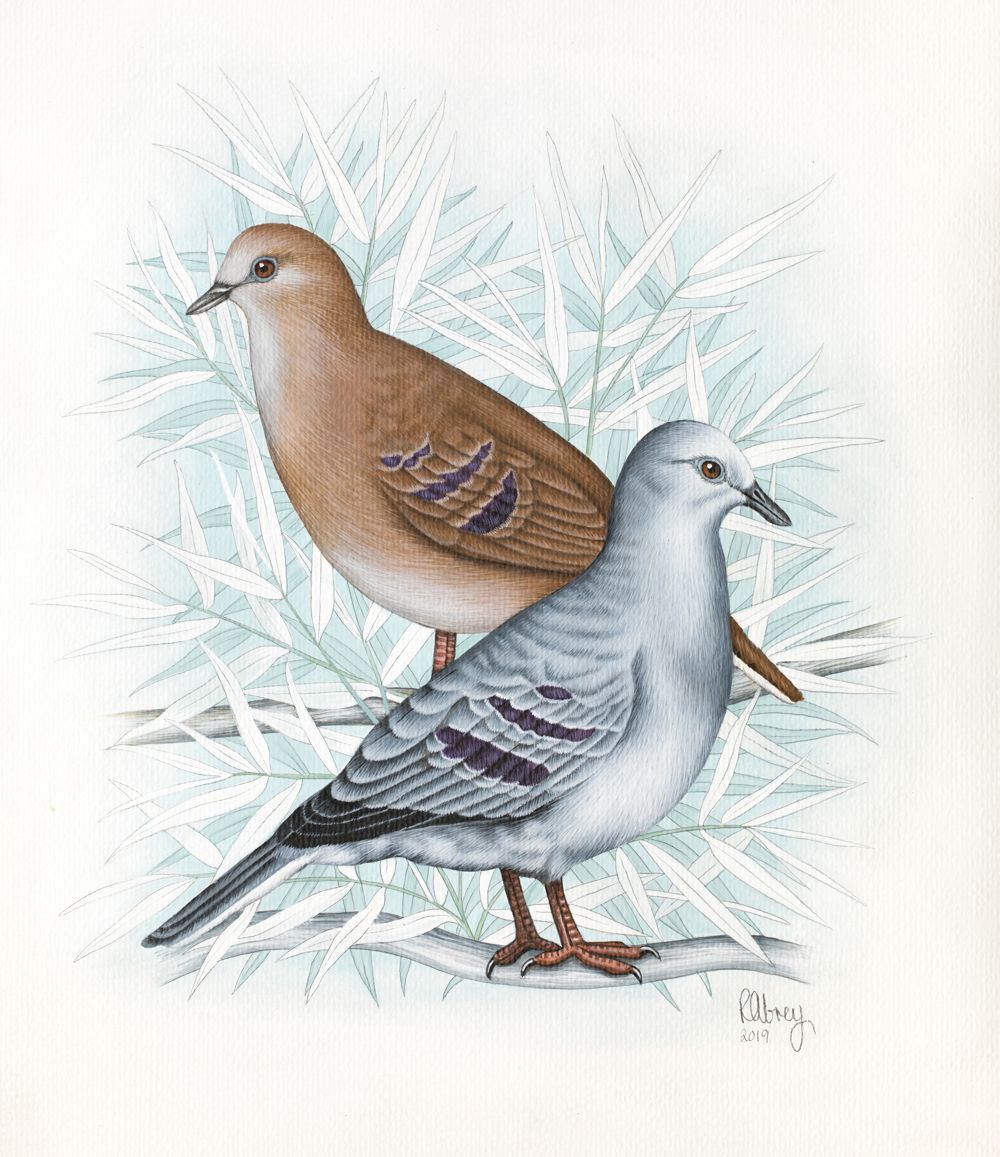 Claravis geoffroyi, male and female.
Illustration by Robin Aubrey.
Unlike the Passenger Pigeon, the Thylacine, or the Carolina Parakeet, we don't know when and where the last captive individual died. The last of the species, the endling – if the species is indeed no more – was never named. One of the last flew into a window in São Paulo and died on 15 March 1991. It is suspected to have been a captive bird, released when the owner could no longer see a way to comply with new rules about the breeding of threatened species. The bird breeders who had kept the bird knew it was a rare and special species, but did not realise they would be witnesses to extinction. This was a quiet, almost unnoticed dwindling away.
By the time the team at Parque das Aves learned of the possible extinction of this species, it may already have been too late. We were shocked that a species could disappear like this, on our doorstep, without anyone really paying attention. If Parque das Aves, an institution situated in the Atlantic Forest with a long history in bird conservation, could not do something, who would? It was that moment of realisation that led to Parque das Aves re-orienting around the mission of conserving the birds of the Atlantic Rainforest. To more effectively pursue that mission, we founded Instituto Claravis in 2020.
Clara: bright, shining, clear. Avis: bird. The mission of Instituto Claravis is "to shine a light on forgotten species": to promote the conservation of birds and other species of conservation concern and reduce their risk of extinction. Through the Center for Conservation of Atlantic Rainforest Birds, we focus on the biome within which we – alongside more than 70% of the Brazilian population – are situated. Through the IUCN SSC Center for Species Survival Brazil, we work to build capacity to assess and improve the flow of information between the national and global red lists of threatened species, as well as to facilitate conservation planning for those species in need of action plans. Through the Center for Rescue and Rehabilitation of Birds of the Atlantic Rainforest, we provide shelter and rehabilitation for rescued and confiscated birds.
Claravis geoffroyi was not alone. Brazil has more threatened bird species than any other country, and they are found above all in the Atlantic Rainforests. We have already lost some – the Glaucous Macaw, Alagoas Foliage-gleaner, Cryptic Treehunter. Others might be lost, but like the Purple-winged Ground-dove, some faint hope remains – Pernambuco Pygmy-owl, Kinglet Calyptura, Rio de Janeiro Antwren. Yet more species are Critically Endangered, teetering on the brink of extinction.
Our vision is for every Brazilian species of conservation concern that needs one to have an effective conservation strategy implemented to reduce their risk of extinction, and for conservation professionals and projects to receive the support they need to implement these strategies. In memory of Claravis, our work is to shine a light on species that might otherwise be forgotten, with the aim of preventing further extinctions.
Center for Conservation of Atlantic Rainforest Birds
Director: Dr Ben Phalan
Tony Bichinski
Caio Prates
Dr Glaucia Seixas
IUCN SSC Center for Species Survival Brazil
Director: Dr Fabiana Lopes Rocha
Dr Eugenia Cordero Schmidt
Rosana Subira
Wild Fauna Support Center (CAFS) "Aves da Mata Atlântica"
Director: Paloma Bosso
Coordinator: Roberta Manacero
Richarlyston Brandt Pereira
Mathias Dislich
Lígia Rigoleto Oliva
Institutional
President: Dr Carmel Croukamp
Superintendent: Paloma Bosso
Secretary-General: Jurema Fernandes
Financial Director: Oliver Davies